---
What do we do? Stone mainly.........
Stone Masons and Suppliers of Natural Stone. We supply & build, or supply only. No frills service at very best prices for highly skilled craftsmen and quality materials. Wall repairs, new builds, hard landscaping, install masonry, in fact almost everything connected with stone, buildings and gardens.
Please note - we do not supply polished granite & or any marble for kitchens etc
Many happy and repeat customers in the East Midlands, including restoration of property, walls, patios, designer garden features
Run by experts in many aspects of natural stone, including Bulwell Stone, and most Derbyshire stone types. Experienced masons can dress stone to specification, and repair walls, and create stone masonry for new builds, renovations and repairs in Derbyshire, Nottinghamshire, Lincolnshire and Leicestershire.
We supply the building and landscape industries, and private customers too - all at trade prices. New and reclaimed stone, paving, chippings, walling, caps, copings, reclaimed materials, rockery and dry walling, sand and gravels too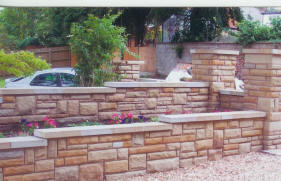 Derbyshire walling & copings
If it isn't listed in our product pages - please ring us - we may still be able to help supply you.
Table of Contents - click here
---
General Enquiries